CANCELLED - Frankfurt Deathfest 2016
"Frankfurt Deathfest (Germany)"
CANCELLED

So, it seems like the promotor for this so called Frankfurt Deathfest is trying to rip everybody off..
Check the story's on fakebook from Avulsed and C.D for example... Damn! Good thing we're not flying in...
We never heard anything from this "promotor" and with all news coming in we have decided to cancel like a lot of the other bands seem to be doing. Sorry for the bands who already had expenses and even more sorry for this fukking shit in 2016, who'd thought there where still rip off shows these days! To bad since we were looking forward to blasting things up once more especially after totally destroying Netherlands Deathfest last week (Ignore all reviews where they don't even mention Inhume because they didn't take the trouble to come to the fukking Patronaat as third stage and see us shred the place to pieces.. bwuuurrgghh)
Let me explain why INHUME cancelled:
3 weeks before the fest we get asked if we want to play "Frankfurt Deathfest" via our booking agency DoomstarBookings.com and we agreed (Of course, we're fukking excited to do a show with our brothers in BLOOD!) and usually we do get some kind of reply/info/feedback (anything?) on backline and possible sleeping places etc. (no is also an answer). Doomstar has send up untill the day of the fest itself several (like in a dozen) messages through mail/fakebook or whatever but never ever did we get a reply. (no sign of life whatsoever) The website on bigcartel also looks a little shady to me, no info no nothing, just 2 or 3 flyers and lots of options to buy shit. (festival shirts with no band names on it... w.t.f.?) On the morning of the fest our booker called to tell it might be wise not to go because of all the rumors and the shit what happened to Avulsed for example. Luckily one of our vocalists (Dennis from Severe Torture ofcourse) is already on the Fest because they had a show on the Friday.. So when we got in touch with him he was already on the way back home...? (We're supposed to play that evening)... Dennis said things we're not looking good and we'd better not go to Frankfurt (just hours before we would have undertaken this trip of 4 hours driving) because there was no sign there would be any bands at all and mainly because of the risk of not getting paid and no sleeping place.. (Then i read all the shit happening to Avulsed and all other bands who had to cancel, still no word from the promoter, no updates on their fakebook, come on.. worst promoter shit ever!) I have no idea what this promotor (team?) was thinking but they sure do need to apologize to all bands / festival goers and make up for everything somehow!!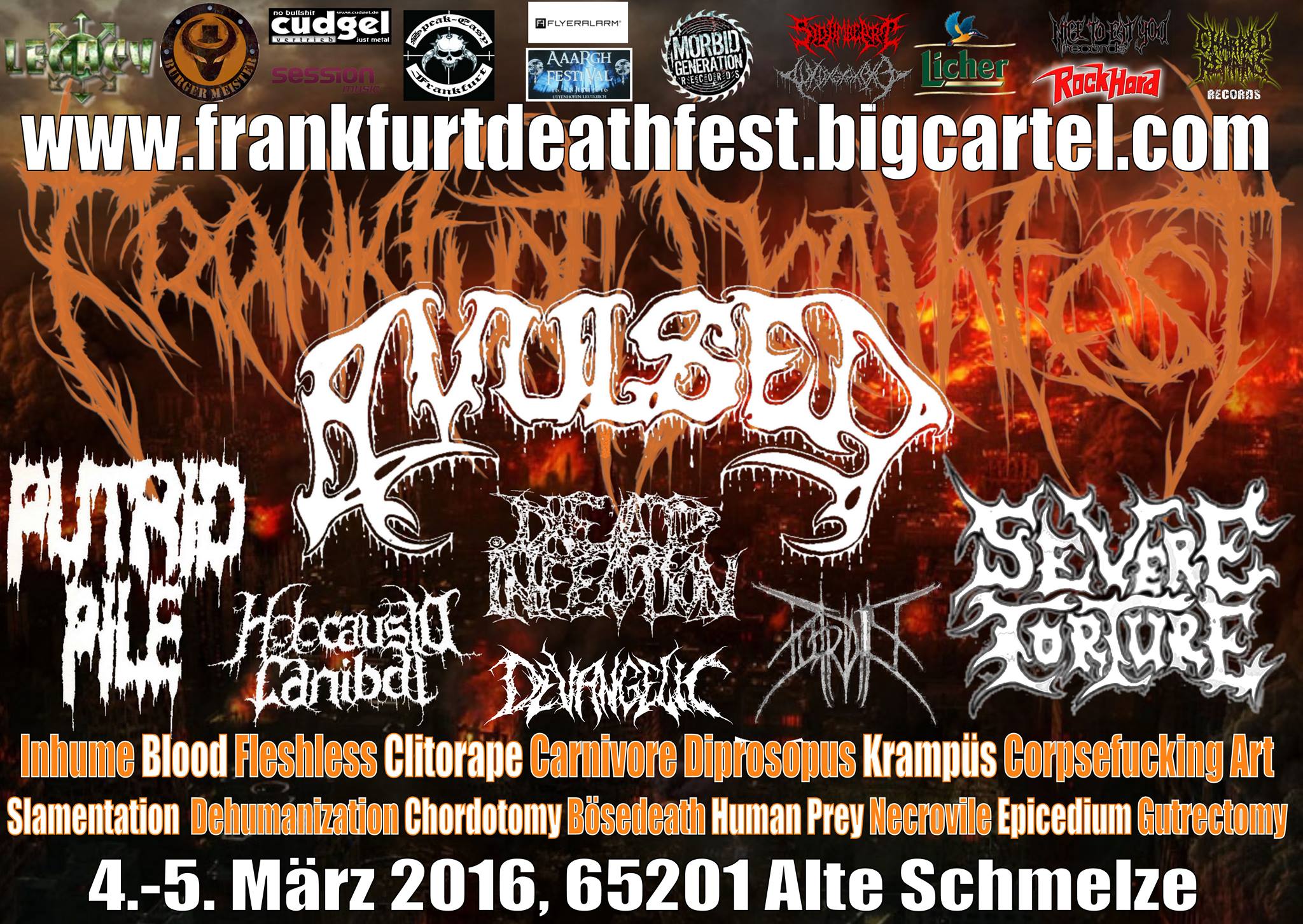 Bands which already cancelled:
Lividity
Avulsed
Inhume
Carnivore Diprosopus
Putrid Pile
Kraanium
Gutalax
Bloodsoaked
Sorry to all the people like "Andy Gnuest" from sweden who won't get to see the bands they came and paid for...
Fuck Ripp Offs!
P.s. If instead you manage to get to AJZ Bahndam, Wermelskirchen better enjoy Waco Jesus and supports tonight!
INHUME will play AJZ Bahndam, March 26th on Rampage Fest II, see you then!